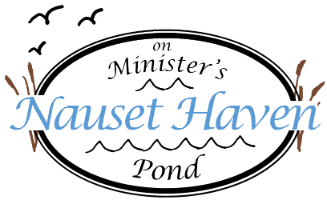 A family vacation retreat
Eastham, Massachusetts on Cape Cod
The History of Nauset Haven
Nauset Haven evolved from a single house along State Highway in Eastham, MA into a pond-side vacation rental community at some point in the 1930s. The pre-civil war era main house was all that existed on the property until one of the past owners trucked in nine cottages and sprinkled them along the banks of Minister's Pond. At that time the cottages were very rustic, to say the least, and were managed by the property owner as a cheap way for visitors to Cape Cod to enjoy all that this lovely part of the world has to offer. 
At some point along the way, the mid 1980s is a good approximation, the Nauset Haven community (the main house and the nine cottages) was purchased by Bruce List. Bruce and his wife managed the property and provided vacation lodging to travelers during the spring, summer and fall seasons. Over each of the winter months, Bruce took on as a winter project the task of remodeling each of the nine cottages, one by one. So over the 15 years that Bruce owned the property each of the nine cottages were updated from their very rustic status to more of a not-so-rustic, more updated Cape Cod feel.
click to see the pictures provided by Bill Fraser, NH owner 1973-1983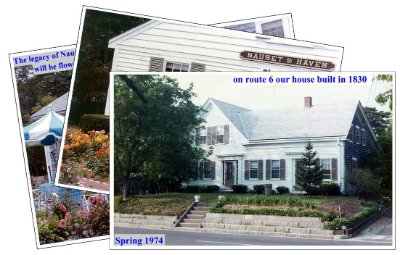 In 1999, Bruce sold the Nauset Haven community to Merwin Rubin. Immediately Merwin started selling off some of the units and retaining ownership of others. A couple of our current unit owners are the original purchasers of these first unit sales. These early cottage owners went through some very turbulent times during the struggle and transfer of property and creation of the early version of the property's condominium trust. These early owners gained their independence in 2000 after Merwin sold off all the units as well as the main house. At that point the owners created the Nauset Haven on Minster's Pond Condominium Trust which started the most recent chapter of our history.
Historical Property Transfers
| Dates Owned | Owners | Sold to: |
| --- | --- | --- |
| 1845 | Joshua Higgins | sold to the Methodist Episcopal Church for $250 |
| 1845- 1924 | Methodist Episcopal Church | sold to Whiting for $3,000 |
| 1924- 1937 | George and Ruth Whiting | sold to Etter for $2,200 |
| 1937-1952 | Harris and Edith Etter | sold to Knowles for $20,000 |
| 1952-1957 | William and Gladys Knowles | sold to Woodworth for $29,000 |
| 1957-1965 | Wallace and Katherine Woodworth | sold to Thomas for $64,000 |
| 1965 | Robert and Edith Thomas | sold to Jordon for $68,000 |
| 1965-1973 | John and Joan Jordan | sold to Modern Decorators for $145,000 |
| 1973 | Modern Decorators | sold to Fraser for $160,000 |
| 1973-1983 | Ann and Bill Fraser | sold to Zimmerman for $245,000 |
| 1983- 1985 | Zimmerman | sold to Bruce List |
| 1985-1999 | Bruce List | sold to Merwin Rubin |
| 1999 | Merwin Rubin | began selling the units to individuals |
Currently, each of the 10 units that make up Nauset Haven on Minster's Pond are individually owned. Each unit owner manages vacation rentals for their units and participates in the condominium trust. We have a board of trustees elected by the owners who work to manage the common areas of our community. 
What was once a very rustic vacation experience for visitors to Cape Cod has turned into a very accommodating one. All of the units, including the main house, have undergone recent renovations and include many amenities that were not even thought of when the community was in its infancy. Air conditioning, high speed wireless Internet access, and cable TV are some of the more modern updates that make our community a great alternative for Cape Cod visitors.