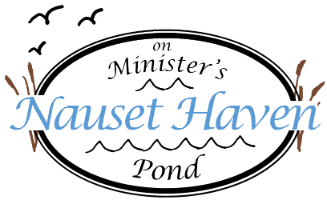 A family vacation retreat
Eastham, Massachusetts on Cape Cod
Nauset Haven on Minister's Pond is a charming family vacation-lodging complex and is ideal for any size family or pocketbook. Vacation property rentals are a great alternative to hotel lodging and let you experience much more of what the Cape has to offer.
Choose from our one or two bedroom cottages or the main house that sleeps up to twelve, or a combination of two or more to meet the requirements of your group. All of the cottages (and the main house) are individually owned and managed but we can most definitely work together to accommodate your vacation rental needs.
The six bedroom main house and the nine comfortably furnished cottages are part of this very well maintained private waterfront property with much to offer and so much to do.
Large pines nestle the shores of the 21-acre, freshwater Minister's Pond. Take one of our rowboats and explore. Grab a fishing pole to take with you or fish from the dock. Take a dip and swim to our diving platform. Or just sit on our private, sandy beach and take in the view.
Nauset Haven on Minister's Pond is located in Eastham and less than a ¼ mile away from the Cape Cod National Seashore Salt Pond Visitors Center. We are truly located right at the gateway of this wonderful part of Cape Cod with its rich history and protected natural setting.
If your plans include venturing out to a nearby Cape Cod Bay beach, with its calm water and truly amazing tidal flats, then you couldn't ask for a better home base. Likewise, if you are looking to experience any of the amazing beaches along the Atlantic Ocean then you are literally just minutes away from all the beauty of the Cape Cod National Seashore.
Why stay anywhere else?